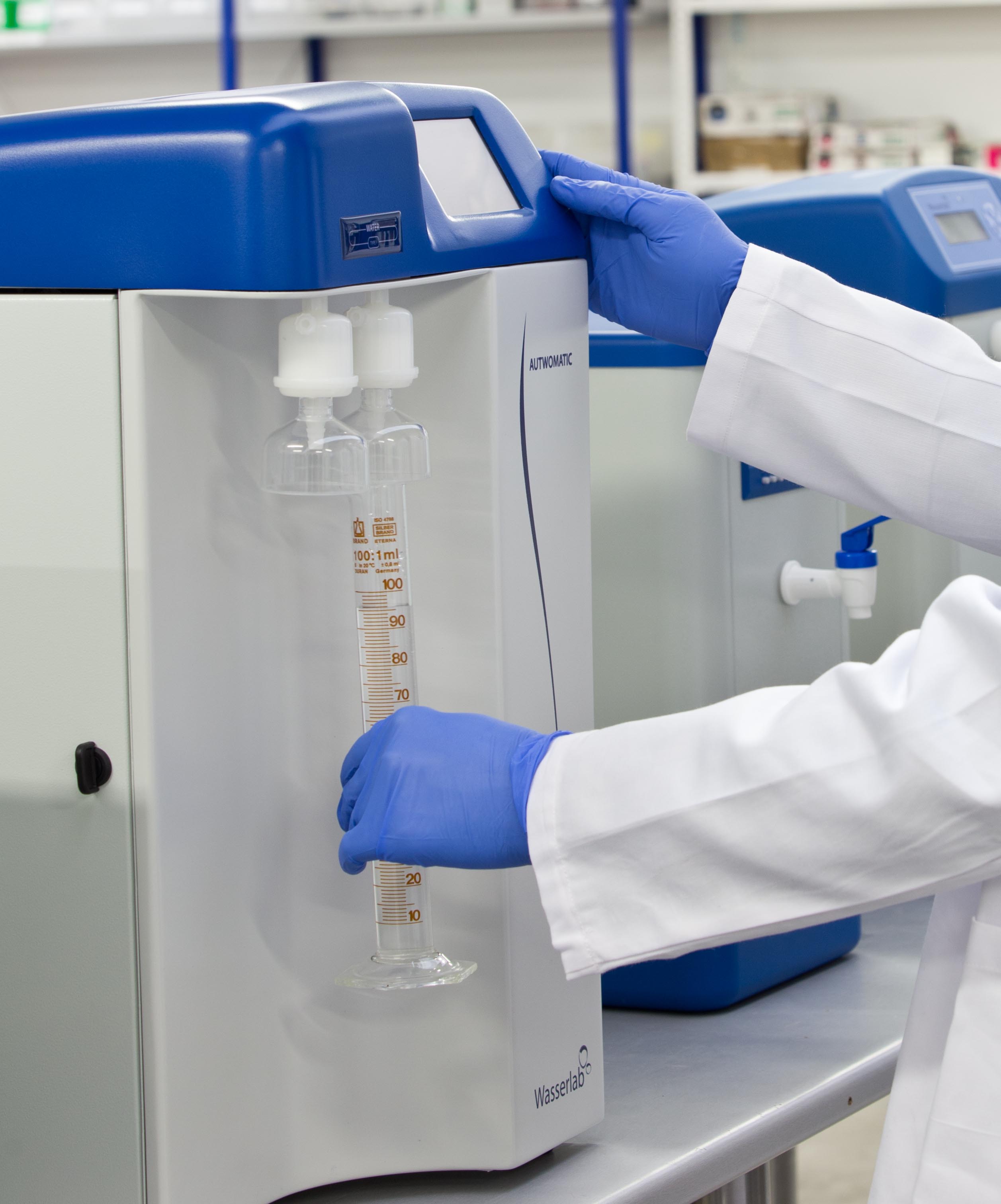 All qualities of water that a laboratory needs on a single equipment
Wasserlab has designed, at its facilities in Pamplona (Spain), a system capable of producing and dispensing the three qualities of purified water most used in a laboratory.
Our system "Autwomatic Plus 1+2"The only Water Purification System in the market
capable of producing and dispensing from a single equipment:
- Ultrapure water (Type I)
- Pure water (Type II)
- Osmotized water (Type III)
Directly connected to the drinking water network and incorporating the highest technologies in production and quality control of purified water.
Two versions for Ultrapure Water (Type I), depending on the applications of your laboratory:
- GR version system equipped with photo-oxidation lamp for reducing organic matter (<3 ppb="" and="" final="" particle="" filter="" 0="" 22="" m="" suitable="" for="" more="" general="" applications="" of="" ultrapure="" water="" such="" as="" trace="" analysis="" hplc="" icp-ms="" ion="" chromatography="" toc="" br="">- GR UF version in addition to the elements of the GR version, it incorporates an Ultrafiltration module for removing bacteria, pyrogens and nucleases present in the water. This system is suitable, among others, for applications such as molecular biology, cell culture, PCR, DNA sequencing or production of monoclonal antibodies.
Three versions for Pure Water (Type II), depending on your laboratory needs:
- 3 l/h version, for an estimated consumption of 30 liters/day.
- 5 l/h version, for an estimated consumption of 50 liters/day.
- 10 l/h version, for an estimated consumption of 100 liters/day.
Due to the photo-oxidation lamp and the final particle filter of 0.22 μm, all versions guarantee a bacterial count <1 cfu="" ml="" and="" a="" toc="" value="" 50="" ppb="" as="" specified="" by="" astm="" standards="" br="">By storing the Osmotized water in a pressurized tank, our system Autwomatic Plus 1+2 dispenses Type II water freshly produced with optimum quality. The last stages of purification are done just before water dispensation. Consequently, the final Type II water has not undergone ionic and microbiological contamination, unlike other purification systems that store the final Type II water with the consequent risk of deterioration.
Three storage versions for dispensing Osmotized Water from the pressurized tank (10, 30 and 50 liters).
Water production flow rates of usual water purification systems based on reverse osmosis membranes (3, 5 or 10 l/h) are compromised by bottlenecks from the reverse osmosis modules. In consequence, storage tanks are needed to ensure a minimum water flow rate at the time of use (either of Type II or Osmotized water).
Wasserlab designed an exclusive and innovative system based on the use of pressurized tanks that store osmotized water. This system also allows the dispensation of osmotized water from this same tank and the automatic feed of water to washing machines, autoclaves or any other system that requires this water quality, providing a significant added value to the user.
We provide storage versions of 10, 30 and 50 liters. If a larger water storage volume is required, several tanks can be connected in series.
Advantages of our system:
Our systems, manufactured in Spain, guarantee a very high quality product and consequently a long life equipment with very low maintenance costs.
Equipped with a powerful software, the Autwomatic Plus 1 + 2 system allows the control of all parameters of the purification process and enables several types of dispensation (manual, by time or by volume). The use of passwords guarantees the security to different access levels.
Both the pretreatment and the water storage tank can be located at a certain distance from the water production system allowing the user to take advantage of available spaces in the laboratory (under countertops or hard-to-reach corners). Installation on the wall is also possible.
The customer just pays for the quality of water selected. Consequently, costs are optimized to the maximum. Additionally, operational costs of any Wasserlab equipment are the most competitive in the market.
For more information, contact us via our email
info@wasserlab.com