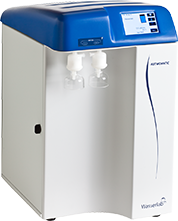 Wasserlab launchs to the market an equipment capable of producing different types of purified water
The new range, called Automatic 1 + 2, allows to obtain from one single equipment water of Types I, II and RO.

Wasserlab continues with its innovative career. The Spanish firm, with over 15 years of experience in design and manufacturing of water purification systems, will launch its new range of Autwomatic 1 + 2. This new equipment will have the capacity to produce three types of purified water: Type I Ultrapure Water (Reagent Grade), Water Type II (Analytical grade) and Water Type III (or RO).

The company offers a wide range of water purification equipment designed to meet the needs for all water qualities-in laboratories, hospitals and Industry. However, Wasserlab has gone even further with the design and manufacturing of Autwomatic 1 + 2, a device that is able to produce by itself the three varieties of water, which makes it very comfortable for the user.

The company located in Navarra (Spain) produces first quality standard equipment , but also manufactures tailored devices according to the user needs. In both cases, its main goal is the professionalism and eagerness for building a strong, close and reliable relationship with their customers.

This is the reason why Wasserlab has become the supplier of water purification equipment for many universities, leading research centers and hospitals of reference throughout the world. Its excellent quality-price ratio, together with its efficient after sales service-with proven speed of answer and effectiveness, make of Wasserlab the best choice.

The water produced by Wasserlab's equipment meets all the requirements of international standards ASTM (American Society for Testing and Materials) and NCCLS (National Committee for Clinical Laboratory Standards).